franky jones
I AM FRANKY JONES
As a child of the funk,soul,disco,hiphop, new wave and new beat era I live and breathe electronic music.
No wonder I am one of the Pioneers in the Belgian Electronic Dance Scene.
A DJ for 27 YEARS now, he still is at the forefront of Belgian Nightlife and far beyond as a regular guest at some of the biggest national & international raves, clubs & party's.He has a record like no one else : Love Parade, Mayday, Nature One, MysteryLand, Techno 94, Dance Valley, I Love Techno, Houseqlassics, Impulz, Megarave, In Qontrol, Rave The City, Defqon 1, City Parade, Q-Base, Inner City, Techno Parade, Thunderdome, Frequence, Decibel, Ground Zero, Rave City, Multigroove, Street Parade, Immortality, Impulz, House Torhout, Montini, Fuse, Carat, Cherrymoon, La Rocca, Lagoa, Extreme, La Bush, Globe, E-Werk, Wharehouse, Space, It, Silo, Sportpaleis, Amsterdam Arena, Tresor, Vooruit,Heizel and the list goes on & on. Taking him around the world, from Paris to Sydney, from Chicago to Tokyo, from Amsterdam to Ibiza, from New York to Detroit, from Berlin to Zagreb, from London to Milan, been there / don that. Franky Jones is also the founder from the TRIPOMATIC, BUDDJA & ENTERPRISE labels and was in the 90's one of the main DJ / Producers behind the legendary BONZAI label.
On the production level he scored one of the biggest selling dance singles ever made.
JONES & STEPHENSON's "The First rebirth" was first released in 1992 and has been remixed and/or re-released every year since that initial release. As a DJ FRANKY JONES stands and delivers high quality and legendary DJ sets.
He was voted BEST VISITING INTERNATIONAL DJ 1995 by the readers of ETERNITY magazine in Northern Ireland. Voted BEST BELGIUM DJ 1997 & 1998 by the readers of MOVE-X magazine.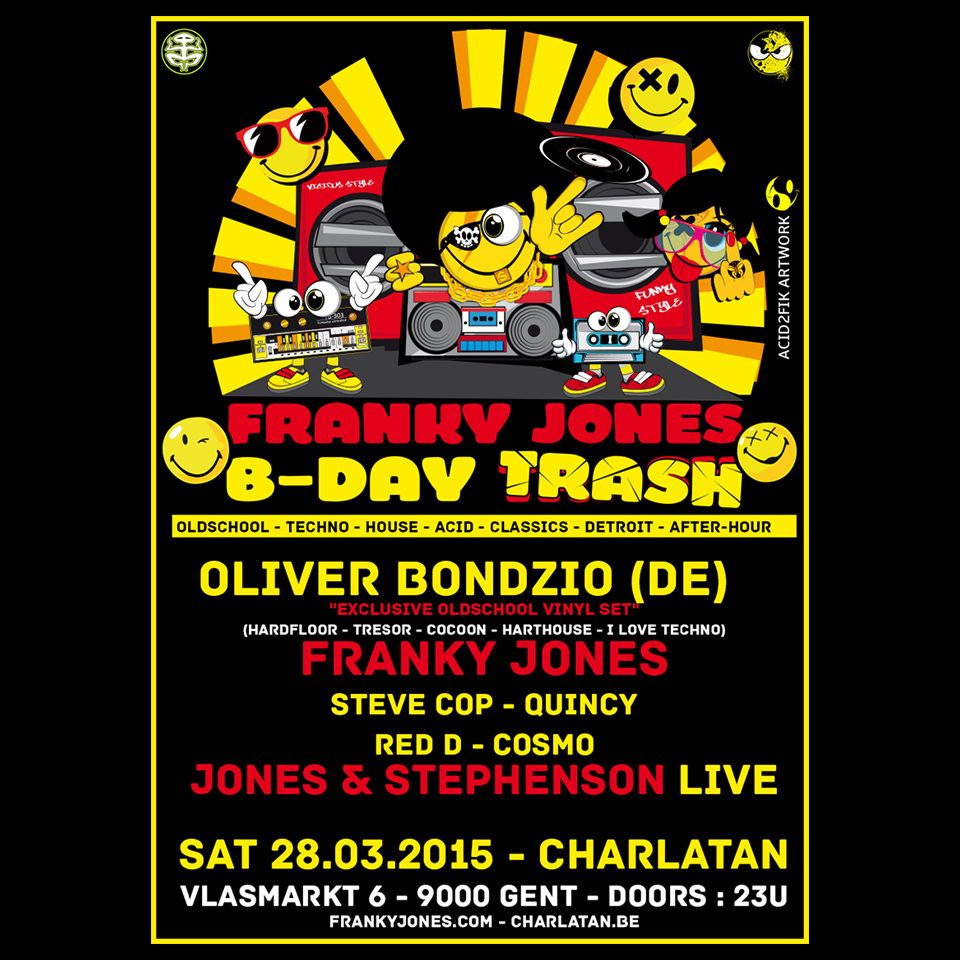 SATURDAY 28.03.2015
Charlatan – Gent – Belgium
FRANKY JONES B-DAY TRASH !!!
oldschool,techno,house,acid,retro,303 acid after-hour
▬▬▬▬▬▬▬▬▬▬▬▬▬▬▬▬▬▬▬▬▬▬▬▬
LINE UP :
★ JONES & STEPHENSON Live
www.soundcloud.com/frankyjones
www.facebook.com/frankyjones
The First Rebirth – Bonzai – Age Of Love – Cherrymoon
★ OLIVER BONDZIO (Cologne)
www.soundcloud.com/hardfloor
www.soundcloud.com/oliver-bondzio
www.facebook.com/hardfloor.de
www.facebook.com/pages/oliver-bondzio
Hardfloor – Tresor – Cocoon – I Love Techno – Harthouse
★ FRANKY JONES
www.soundcloud.com/frankyjones
www.facebook.com/frankyjonesfanpage
Acid Attack – Teknoville – Wharehouse – Tomorrowland
★ STEVE COP
www.facebook.com/steve.cop
www.soundcloud.com/steve-cop
Cafe D'Anvers – Sonic Solution – Fuse Rewind – Petrol
★ QUINCY
www.facebook.com/quincysteveninck
www.soundcloud.com/quincysteveninck
Age Of Love – History Of Trance – Extreme – Balmoral
★ COSMO
www.mixcloud.com/raycosmo
www.facebook.com/djraycosmo
Carat – Nice Therapy – Extreme – Punk ID Recordings
★ RED D
www.soundcloud.com/red-d
www.facebook.com/djreddbelgium
We Play House Rec. – Sunday Matinee – Decadance
Doors : 23.00 untill late in the morning
All you KOZZMOZZ heads are welcome for the 303
after-hour set from Oliver Bondzio vs Franky Jones !!
▬▬▬▬▬▬▬▬▬▬▬▬▬▬▬▬▬▬▬▬▬▬▬▬
TIMETABLE :
ROOM 1 :
23 – 00 : COSMO
00 – 01 : STEVE COP
01 – 02 : QUINCY (exclusive age of love vinyl set)
02 – 03 : JONES & STEPHENSON Live
03 – 05 : OLIVER BONDZIO (excl. oldschool vinyl set)
05 – 07 : FRANKY JONES (exclusive tsob retro set)
07 – 10 : BONDZIO vs JONES (excl. 303 acid after-hour set)
ROOM 2 :
00 – 08 : RED D (all night long playing house)
▬▬▬▬▬▬▬▬▬▬▬▬▬▬▬▬▬▬▬▬▬▬▬▬
!!!!! WIN FREE duoticket !!!!!
- Invite ALL your friends
- Send 2 screenshots for proof
- Send it to: frankyjones@gmail.come
- Good luck !!!
▬▬▬▬▬▬▬▬▬▬▬▬▬▬▬▬▬▬▬▬▬▬▬▬
CHARLATAN
VLASMARKT 6
9000 GENT
BELGIUM
Doors : 23.00
Damage : 5 EURO
www.charlatan.be
www.facebook.com/charlatancafe
www.frankyjones.be
www.facebook.com/frankyjones
www.facebook.com/frankyjones2
www.facebook.com/TRASHfrankyjones
www.facebook.com/frankyjonesfanpage
www.enterpriseparties.com
www.facebook.com/group/enterprise.parties
▬▬▬▬▬▬▬▬▬▬▬▬▬▬▬▬▬▬▬▬▬▬▬▬
The Underground Continues !!!
8 View on Facebook